Amazon Price Tracker
Whether you're shopping on Amazon on the hunt for the best possible price, or you're an Amazon seller looking to keep track of the best deals for competitive pricing purposes, you need to know about Amazon Price Trackers.
eCommerce retailers grappling with rapidly rising costs have the dilemma whether to absorb or pass on increased manufacturers, supplier and distributions costs to consumers hunting for the best deals.
The dilemma surrounds 'etailers' having the trade-off between losing out on already narrow margins against market share and Amazon's pursuit of ensuring they retain their prime position as the world's largest retailer and the sixth-largest company on the planet.
Whilst it's easy to simply increase retail prices, Amazon price trackers can give consumers the edge.
Here's how.
What is an Amazon Price Tracker?
With the technological capability to collect pricing for millions of products, Amazon price trackers monitor pricing fluctuations and adjustments enabling price comparison to find the best possible deal and even anticipate when is the best opportunity for a consumer to make their purchase.
Prices are then returned back to the consumer to make an informed purchase decision, or back to the vendor to determine their market price position based on their expected trading margins, price .v. volumes ratio, and stockholding.
The benefits of using Amazon price check?
An Amazon price tracker for an online shopper or vendor is a technological advantage that is impossible to ignore, providing sellers and buyers with a whole host of features and benefits to save time and money.
Here are six of the best benefits Skuuudle has discovered:
Relentlessly tracks pricing history on all Amazon products.
Graphs trends for both new and used items.
Enables analysis of pricing trends.
Search for the best price for the products you want.
Receive email alerts when prices drop.
Search for deals in real time.
How do Amazon Price Trackers work?
Whilst Skuuudle delivers pricing intelligence for our many enterprise clients rather than end consumers, we monitor the tech that enables the scale of Amazon price tracking, and there are similarities in the methodology how Skuuudle collects competitor pricing intelligence.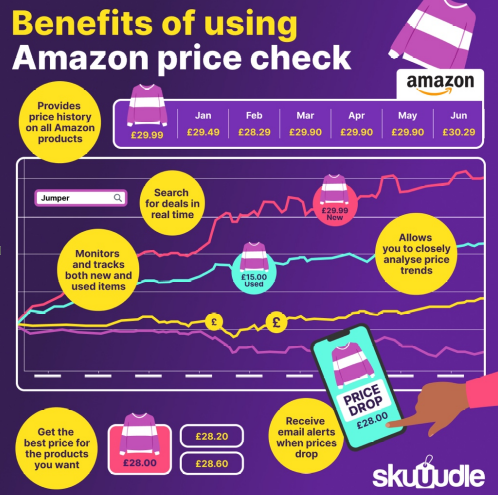 Amazon price trackers capture the relevant page information including product descriptions, stock availability and the all-important price.
This isn't easy especially when currency, temporary sale prices, discounted prices, promotions such as multi-buys and loyalty discounts may adjust the recommended retail price or the minimum advertised price. Skuuudle are specialists in capturing all this pricing data.
The same way Skuuudle captures pricing intelligence on millions of sku's every day for our clients' competitors, Amazon price trackers crawl hundreds of different websites, analysing all the products several times a day, which is why you need to select an experienced price tracker who has already confronted all these issues.
Choosing a well-established price tracker means you'll have solid, consistent pricing data you can trust without worrying about losing continuity or degradation of what you've signed up for.
Anything I should be aware of?
There's more than one retailer in online retails' (blue) ocean
Amazon price trackers work in Amazon's favour, cleverly forging a strong partnership at no additional cost between consumer and vendors to keep growing Amazon's annual sales.
And just so you are aware, whilst Amazon is the whale in a sea of shrimps, there are other online retailers all trying to win sales and grow market share who may offer alternative and favourable prices, its just finding them.
Amazon price trackers are focused on driving sales to Amazon.
Choice of Amazon price trackers
On the other side of the fence, there are several price checkers who have already put down stakes in the Amazon price tracking metaverse. Here at Skuuudle we feel there is no obvious best-in-class leader, with work to be done by re-imagining their interfaces. At the moment there's no tracker with a slick, polished interface, just straight forward functionality that customers require.
What is definite is that Amazon price trackers remove the pain points of continually searching and missing out on deals you could have won.
So it's best to dip your toe in the water and take the plunge. It's down to personal preference to identify and prioritise which tracker to use, depending on what you need for own practical use.
Skuuudle Demo
Monitor your competitors prices
Start a custom demo with your competitors data included